viernes, noviembre 02, 2007 |
Roedor invitado Burnout Bitacora de Bombero
theKompany.rom
Código:
http://www.geeklabs.com/zaurus/theKompany/
La ROM Original
http://www.geeklabs.com/zaurus/theKompany/initrd.bin
http://www.geeklabs.com/zaurus/theKompany/zImage
Una versión MOD (Para usar con Modulo GPS) posterior;
Index of /~axel/GPS-CF_HOW_TO-TKROM2.0Alpha3
http://www.kflog.org/~axel/GPS-CF_HOW_TO-TKROM2.0Alpha3/
Más
INFO AQUÍ
Citar
Vía email, Shawn Gordon, the president of theKompany, informed me that theKompany has stopped supplying this ROM to Zaurus users. theKompany.rom is provided free of charge in a partnership between theKompany.com and Michael Stevenson aka Proto. What we've done is removed a number of applications and made them optional to install, you can download those missing applications from
http://community.zaurus.com/projects/customroms/
. In addition we've fixed a lot of the bugs in the existing ROM for the device, integrated pieces of the new ROM that were improved and pieces from various open source projects that provided superior functionality. theKompany.com does not host the rom or the applications, nor do we distribute them, rather we provide a high profile location where people can get information about what is available in the ROM and information on how to retrieve it. How you make use of "theKompany.rom" is entirely up to you, we provide no warranties or guarantees of any kind. Support can be gotten from the same location that the files are downloaded from. The ROM can be downloaded from
http://community.zaurus.com/projects/customroms/
This is an SL-5500 and SL-5000 Realease [But there is NO download for SL-5500]. The SL-5600 Release will folow at a later date. This is the public beta, please fill us in on the issues via the project page bug tracker and we should have a final release out week. For more info and screenshots please go to
http://www.thekompany.com/embedded/rom
The final release will include more of theKompany.com's custom themes as well!
Linux-based Zaurus PDA which have recently been released by theKompany.com . .
http://www.linuxdevices.com/articles/AT7091060803.html
Esta portentosa ROM para la Collie no nació con fines altruistas, aunque finalemente liberaron las aplicaciones comerciales para la misma, una muy buena ROM desde una empresa privada para el mundo del software libre.
Y es que en dispositivos de mano los papeles están invertidos con respecto al mundo PC X086, las empresas poderosas invierten sus duros en Linux para sacar el code abierto...
theKompany Review Series: tkcVideo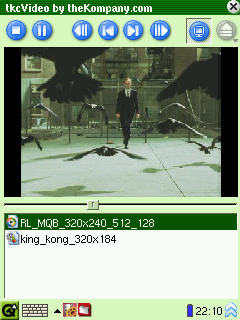 Building your own custom Zaurus ROM image
http://genealogy.holt.org/~casey/zaurus/Zaurus_Custom_ROM_Instructions.html
Etiquetas:
ZAURUS PDA LINUX
Etiquetas
ACME
(163)
animales
(74)
ARTE
(12)
Cámaras de Acción
(1)
Canon
(1)
caraconejo
(11)
cine
(19)
cmd.exe
(4)
comic
(11)
consumismo
(4)
corto
(6)
cultura
(1)
denuncia sócial
(16)
deportes
(1)
documental
(1)
filosofía
(1)
Gachet´s
(23)
GAMES JUEGOS
(2)
geocities
(18)
GOPRO
(1)
Heavy Metal
(3)
humanos
(1)
humor
(1)
injusticia
(9)
iPhone-iPod Touch
(42)
love story
(1)
LUGARES
(3)
MacOS
(16)
manual
(1)
mitos y leyendas
(5)
Moraleja
(13)
muerte
(3)
muy punk
(2)
no es de justicia
(34)
no es deporte
(1)
No es política
(30)
Nostalgia
(8)
PDA PPC
(4)
photo
(8)
Photoshop
(4)
Piensa en verde
(3)
prensa libre
(2)
QUEJAS OLVIDADAS
(6)
recuerdos
(2)
reflexión
(19)
Rock
(2)
salud
(23)
ser
(40)
sexologies
(86)
SGAE
(1)
sociedad
(162)
software libre
(10)
spot
(41)
Teclas Windows
(4)
TV
(4)
via email
(14)
Windows
(14)
youtube
(1)
ZAURUS PDA LINUX
(51)